Welcome to my site. My name is Bas de Jong, licenced since 1983. But my radio amateur hobby started long before that time, and got a boost when at the age of 12 I got a Philips experimenters box EE1003 with which you could build lots of designs including radio's.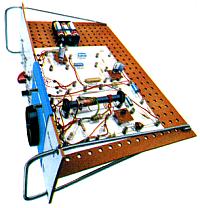 My interrest for microcomputers (not pc's!) started when I bought a pcb for Elektor's Junior Computer and expanded it ever since with all kinds of hard and software.
In principle, I build everything myself. Receivers, transmitters, spectrum analyser, (micro)computerboards, (DSP-)software in assembler or C, you name it. On these pages I like to describe some of my projects. For some of them, I have developed professional pcb's which are available for sale.